Load Up Your Truth Gun and Shoot At Despair
Naegi Makoto is an ordinary kid by all standards and even he knows it. However, he was actually picked by a lucky raffle to be sent to Hope's Peak Academy, a sort of school where only the high school students with 'ultimate' talents can be accepted in, and as such is guaranteed a successful life after graduating from the school. How strange… but certainly lucky if this were to be true! After a few nights of forum-lurking and the likes, Makoto finally heads to the school that he was even called the 'ultimate lucky student' to be chosen to attend, to find out something was… definitely off.
Naegi doesn't realize the oddity of the situation until too late, when he finds himself in a classroom with metal plates covering the windows, 14 other 'ultimate' students greeting him with just as much a clue of the situation they're in as he does, realizing he's trapped in the school, meeting a strange robotic teddy bear named Monokuma as it says that it's the 'headmaster' of the school, then learning that to graduate and escape, they simply just murder another student. However, they have to murder and get away with it by succeeding in a school trial, then they get away scot-free while every other student is executed. If the killer gets proven and voted to be guilty, then the killer is the one that gets the execution… and what an execution it might be!
Eventually, it becomes Makoto and the remaining students' task and possibly their only chance at surviving and getting out of this nightmare is to investigate every detail they come across involving the murder and gather all of the evidence they can to bring truth to the murder and execute the right student so they will never be a problem again and they'll be safe! At least, until another student betrays the group…
Being a visual novel, this game does emphasize reading, in which this will mean a lot of the game will have cut-scenes in the form of long strings of interesting and well-written dialogue as you control Naegi Makoto in a nicely immersive first-person view throughout the game. Otherwise, the game has different play styles throughout it that keeps it nice and fresh, for example:
I can't really stress how good it feels walking around the school and interacting with everything in the way the game did it. It made me feel like I was actually in the game, and I hope it's the same for most players.
These segments give people the freedom of getting used to their surroundings and the other students. As you walk through the school there will be a lot of points to check out as you following a yellow cursor around as you walk through the intricate school (good thing you have a map with you). This mode has a great sense of immersion and makes you feel that you are Makoto. Roaming is basically like this, while in Free Time, you have the ability to explore on your own free will, but there's more to it.
For  Free Time, you can have fun exploring whatever is accessible to you, and even enjoy the fun monomono machine that you can pay collected coins to get items on. A fun and even more immersive thing you can do is talk to and make friends with your classmates. This builds relationships with them, especially if you give them items. You will also gain more info on the friends you make along with probably a few embarrassing stories about them. Be aware, though, the fun trick is figuring out which student likes which item!
Lastly for this, there's the fun of investigating when someone is declared dead. You and the remaining students must explore every nook and cranny to observe and collect various pieces of evidence to use as 'truth bullets' in the class trial. You will have to examine every room that seems to be of importance with the investigation and talk to every character to get more evidence before the class trial will start. After this…
That's right, time for the Class Trial! Naegi and the students that aren't dead yet then get on an elevator to a strange room with a circle of defendant pedestals along with a tall chair for the school's 'headmaster' to sit. This is where the trial happens, as the students are set up around the pedestals, and even a picture of the murdered ones are in a frame, crossed out with a red X, then fitted onto their respective pedestals.
The trial starts with a nonstop argument, as the students go through an argument, going over details of the murder. As you listen in, it's your duty to hypothetically shoot any contradictions down with the corresponding evidence. Get the culprit run down until he's finally ready to spill the beans. Not all of this is just a little game of shooting statements down. There are many fun mini games you do as well to get the trial still running.
And then the fun will soon get to an end. After a silly game of recapping the murder scene, you will finally have the culprit cornered and guilty!
Playing through the trials felt great and intense, suspenseful, and very exciting for me. Fans of games with trial-based puzzles will LOVE it.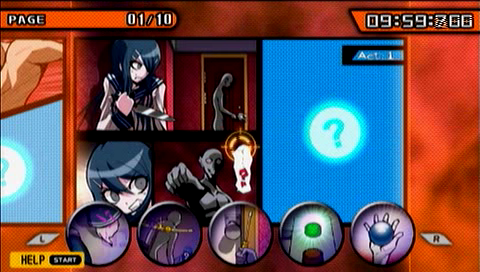 The right game for:
Story readers, especially ones who love horror/murder mystery stories.
Fans of investigation-based courtroom-style puzzle games.
Serious story in a slightly silly style.
Playstation Vita owners that are itching for a new game that will give them a good time.
Whoever loves unique characters, witty dialogue, any humor to lighten up the game.
The wrong game for:
People who don't like to read too much in video games.
People who are sensitive or easily triggered by certain murder-based themes.
People who don't like pink blood
People who want a more serious set of characters and dialogue.
People who don't own a Playstation Vita
I don't regret picking this game up at all, and it was worth the wait for it to come out in America. Just a little reminder, though, you may want to choose wisely which student you would get attached to, because they could either end up dead or the killer. Have fun trying to find your way out of this sadistic murderous school!
Final Verdict: 4.5/5
Game: Trigger Happy Havoc: Dangan Ronpa; Available on: Playstation Vita ; Publisher: NIS America; Developer: Spike Chunsoft; Players: 1; Released: February 11, 2014 ; ESRB: M; MSRP: $39.99: